LifePoint Health contributes $100,000 to Feeding America, Kentucky's Heartland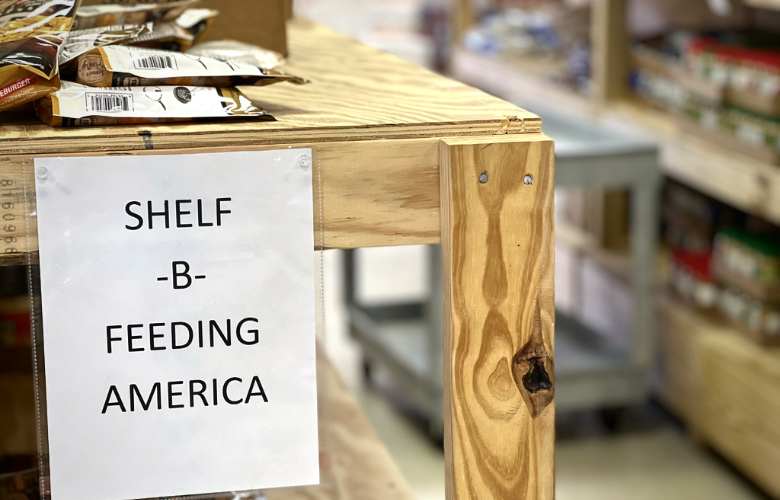 Company selects local food bank and partner agencies to receive first deployment of funding as part of its $1M pledge to support tornado recovery and rebuilding efforts in Mayfield, KY
LifePoint Health, a leading healthcare company dedicated to Making Communities Healthier®, announced today that it will donate $100,000 in support of Feeding America, Kentucky's Heartland and its partner agencies: the Mayfield-Graves County Needline and Food Pantry and the Purchase Area Development District (PADD) Food Bank. The gift is the first deployment of funding as part of LifePoint's $1 million pledge to help the community of Mayfield, Kentucky rebuild following the devastation caused by the December 2021 tornado that swept through the region. LifePoint owns and operates Jackson Purchase Medical Center (JPMC) in Mayfield, a 107-bed facility and the sole provider of acute care in Graves County.
"Over the last couple of months, we have worked closely with hospital leaders and city officials to identify the areas of greatest need in the aftermath of the tornado," said David Dill, chairman and chief executive officer (CEO) of LifePoint Health. "Our hope is that these funds will accelerate the recovery efforts of the local food bank and help put food on the table for those in need. We look forward to deploying additional funding in the weeks and months ahead as we work to fulfill our $1 million commitment to the Mayfield community and advance our mission of Making Communities Healthier."
Feeding America, Kentucky's Heartland is a Feeding America®-affiliated food bank serving 42 counties across the state. Within its network are partner organizations such as food pantries, soup kitchens and shelters that service each of these counties, including the Mayfield-Graves County Needline and Food Pantry and the PADD Food bank, which are both located in Graves County. LifePoint's gift will underwrite three high priority needs: a distribution van for Needline, as many citizens do not have transportation to get to the food bank; commercial refrigeration for Needline to support storage of perishable items; and support of the PADD Food Bank rebuilding fund, which will help cover the insurance deductible as well as repair damage sustained during the storm.


"While Jackson Purchase Medical Center sustained no physical damage during the storm, many other parts of our community were not so fortunate," said Dave Anderson, chief executive officer (CEO) of JPMC. "Our local food bank was hit very hard and remained without power for nearly five weeks, while damage to the building itself made it unsafe for food storage. This meaningful gift will help ensure access to nutritious food and basic resources to help strengthen the fabric of our community overall. We continue to be deeply grateful for LifePoint's partnership and support as we embark on the road to recovery."
Prior to the tornado, the Needline food pantry served up to 350 families per month, including more than 270 senior citizens participating in the Commodity Supplemental Food Program, a government initiative focused on improving the health of low-income individuals at least 60 years of age and older. In addition to food items, the Mayfield-Graves County Needline and Food Pantry also offers baby diapers and small quantities of formula and baby food, as well as financial assistance for electric, water, gas and medical bills.
"The generous donation from LifePoint Health will make a tremendous difference in our ability to help those who are food insecure in our region and do not know where their next meal is coming from," shared Jackie Herndon, executive director of the Mayfield-Graves County Needline and Food Pantry. "A donation of this magnitude allows us to not only rebuild our capabilities but expand them in ways that we never thought possible. It opens the door to many more opportunities for us to serve our community, and we look ahead with renewed hope to what the future holds."
This funding deployment and subsequent donations will be allocated through the LifePoint Disaster Response Fund, which was created as a mechanism for the company and its employees to help communities respond to disasters as they work to recover and rebuild.
---
About LifePoint Health
LifePoint Health is leading provider of healthcare that serves patients, clinicians, communities and partner organizations across the healthcare continuum. Driven by a mission of Making Communities Healthier, the company has a growing diversified healthcare delivery network comprised of more than 50,000 dedicated employees, 65 community hospital campuses, 30 rehabilitation and behavioral health hospitals and 170 additional sites of care, including acute rehabilitation units, outpatient centers and post-acute care facilities. More information about LifePoint can be found at www.LifePointHealth.net.


About Feeding America, Kentucky's Heartland
Feeding America, Kentucky's Heartland (FAKH) is a regional food bank that provides assistance to more than 223,500 people in 42 Kentucky counties each year. Through support from individuals and organizations, such as United Way, FAKH distributes almost 21 million pounds of food to 240 food pantries, soup kitchens, and shelters. FAKH also sponsors various hunger relief programs including the BackPack™ Program, Senior Box (CSFP) Program, and Serving Up Fresh. FAKH's main office and warehouses are located on Peterson Drive in Elizabethtown, Kentucky. For more information or to volunteer, sponsor a fundraiser or a food drive, or to make a secure online donation to Feeding America, Kentucky's Heartland, visit their website at: www.feedingamericaky.org.
Read All Posts